Strata by Terry Pratchett Book Review: Sparks of Pratchett's Later Greatness
Strata by Terry Pratchett
My rating:
★
★
☆
☆
☆
THE COMPANY BUILDS PLANETS. Kin Arad is a high-ranking official of the Company. After twenty-one decades of living, and with the help of memory surgery, she is at the top of her profession. Discovering two of her employees have placed a fossilized plesiosaur in the wrong stratum, not to mention the fact it is holding a placard which reads, 'End Nuclear Testing Now', doesn't dismay the woman who built a mountain range in the shape of her initials during her own high-spirited youth. But then came discovery of something which did intrigue Kin Arad. A flat earth was something new...
An intriguing early work, connected as it is to the grand vision of Mr Pratchett.
Strata
also happens to be one of Pratchett's few forays into science fiction. Nevertheless, fans of the
Discworld
series will notice foreshadowings of Pratchett's later work and sparks of the humour and a preoccupation with the existentialist philosophy that would later characterise it.
However, as a standalone novel, the book is, in my opinion, distinctly underwhelming. While not particularly long or verbose, this one took me particularly long; it took me years to summon the motivation to continue it despite a completionist streak. The plot and motivation are unclear, the characters are underdeveloped and the action scenes lag and are periodically underwritten (and therefore hard to follow).
Despite the emphasis on Pratchett's distinctive brand of bizarre comedy (which, for all its randomness, generally manages to hit the mark) in the blurb, what few attempts at humour there are fail to redeem this.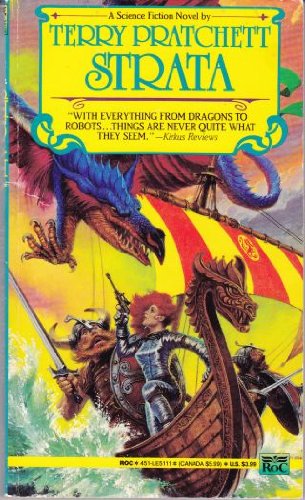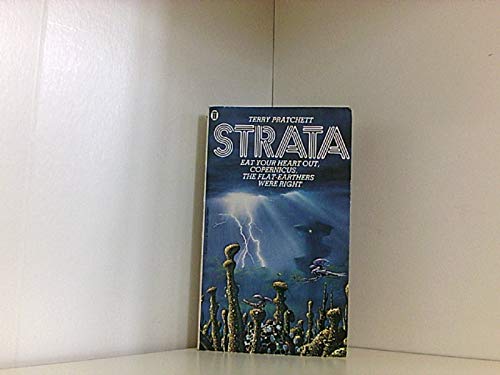 This likely wouldn't have had so many editions published had it been written by anyone else.
It picks up in parts sufficiently enough to partially propel along reading (alongside the necessary motivation Pratchett's name alone bequeaths), but only momentarily, before it settles back into decided mediocrity. This is a shame as there are some flashes of wonderful ideas here, but they're never fully realised; a Goodreads reviewer summarised this best with a creative writing term:
'horizontal' (rather than 'vertical') writing
– 'writing just to fill the pages, writing just to keep the plot moving, writing just to watch time pass in-universe.'
The ending is, however, worthwhile and profound, and perhaps the most 'true' to later Pratchett. Nevertheless, fans rooting out Pratchett's early work hoping for the same calibre of world-building and delightful social observations are advised to steer clear.